The 1,020 sq.ft. 2 bedroom apartment in Kalyan Nagar, Bangalore, is about simple materials, clean lines and uncluttered spaces. The clients, a young couple and their little daughter wanted the spaces to be simple and undemanding in terms of maintenance.
This typical builder apartment was designed to be a light, unified space with clearly segregated functions. Elegance, minimalism and functionality find their ways into the house. The prime requirement was keeping the circulation open and minimal and adding elements to the space as it demanded. 
An east facing main door marks the entrance right inside the living room. The soft white brick wall facing the entrance complements the black metal and oak wood finished library in the living. The clients being avid readers, the books became the highlight of the space.
The dining and kitchen area to the right of the living. Being the central space of the house , the dining connects all the other rooms. The dining table with the black dome light acts as the anchor element in this transitional space while maintaining the monochromatic tone.The dining is cordoned off from the wash and pooja with a sleek metal and ribbed glass partition allowing light to flow in uninterrupted.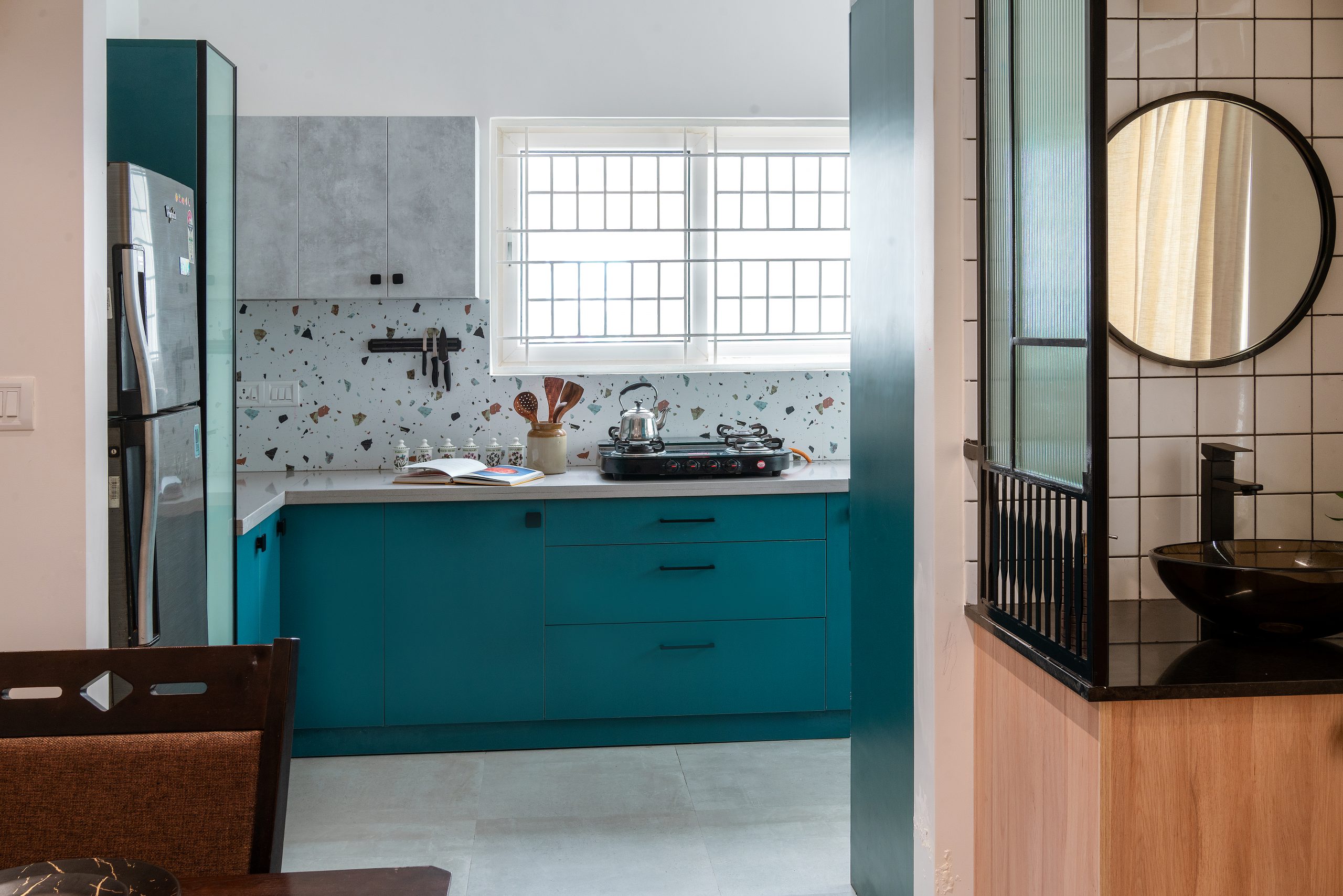 The apartment's living and dining room has a white-wood and black colour palette which transitions into a different vibe as we move to the kitchen from the dining, with a pop of colour and a fun terrazzo backsplash. The kitchen was opened up by breaking the utility wall to create a linear kitchen with parallel counters which helped create additional storage and counter space.
The guest bedroom was planned to be simple with subtle details. Elements of color and texture were introduced through green tinted open grain wooden wardrobe contrasted beautifully with black sleek handles and a soft pink tone on the walls. Drawers were included in the bottom of the wardrobe for the little one to put in her toys and belongings.
Clean walls, warm and soft shades shape the master bedroom. The wardrobe in the master bedroom became the key element of the space. Classical textures of rattan and wood on the wardrobe added another dimension to the otherwise soothing space.